So basically their version of EA Access.
Yes that's what it seems, which is a fantastic service. Hopefully this is as smooth, and has decent games to play. I bet st the least I could hook my kids up with this and they should be "happy"
Phil Spencer, Head of Xbox, has revealed a new subscription-based service called Xbox Game Pass will be coming later this Spring.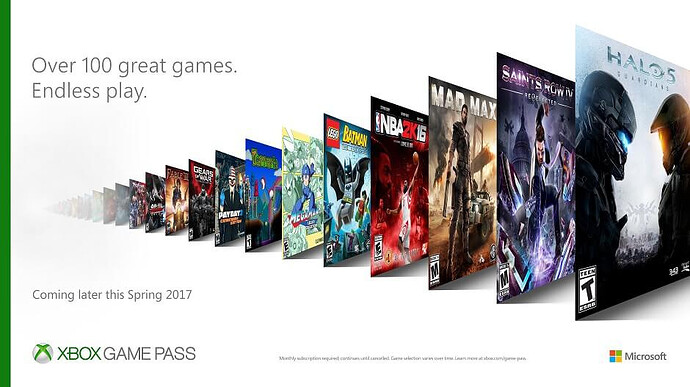 The new service will give you unlimited access to over 100 Xbox One and backwards compatible Xbox 360 games for a price of $9.99 per month.
The line-up of games has yet to be fully announced, but a number of top publishers have already jumped on board, with "2K, 505 Games, BANDAI NAMCO Entertainment, Capcom, Codemasters, Deep Silver, Focus Home Interactive, SEGA, SNK CORPORATION, THQ Nordic GmbH, Warner Bros. Interactive Entertainment and Microsoft Studios" mentioned on the page.
Similar to EA Access, Xbox Game Pass will allow you to download titles directly to your Xbox One — rather than streaming them — giving you access to games without the worry of bandwidth restrictions and connectivity problems.
In order to fully test the new initiative, Phil Spencer also confirmed that select members of the Xbox Insider Program in the Alpha Preview ring will gain access to Xbox Game Pass today, although the current range of games available will be "very limited" at the start.
At Xbox, we put gamers at the center of everything we do and remain committed to giving you the freedom to play the games you want, with the friends you want, on the devices you want. This year is shaping up to be an exciting one for gamers. As we prepare to launch Project Scorpio this holiday, bringing the most powerful console ever made to the Xbox One family of devices, we continue to make platform improvements to connect the growing community of players on Xbox Live and add to a robust and diverse portfolio of games across Xbox One and Windows 10.
Today, we're continuing our commitment to give you more options to diversify and expand your library of games with Xbox Game Pass, a new gaming subscription service coming later this spring. Xbox Game Pass gives you unlimited access to over 100 Xbox One and backward compatible Xbox 360 games – all for $9.99 per month.
I probably have or have had most of those games. Thank goodness cause I probably would have at least tried it.
Interesting 9.99 a month. Unlimited hmm
I've got it right now, and I can't remember how many, but there's a couple of XBone games in it. And, if you're part of the Game Pass you'll also get a discount on games you purchase through it.
The Netflix like Xbox Game Pass is now live via Early Access for Gold Members, with a general release following June 1 when everyone can get involved.
Starting today Xbox Live Gold members can start a 14-day free trial to try out the service before signing up for $9.99/£7.99 a month. I spoke to Xbox CMO Mike Nichols to find out exactly what you're getting for the money.
There's over 100 games available
As you'd hope with 100 Xbox One and backward compatible Xbox 360 games on offer, there's a lot of options. There's big name stuff like Halo 5, all three Bioshocks, Gears of War 1-3, Gears Ultimate, NBA 2K16, XCOM: Enemy Within, Saints Row IV: Re-Elected, Mad Max, and Payday 2.
More family friendly things include Banjo-Kazooie, LEGO Batman, Terraria and Viva Pinata. And there are more retro things like Mega Man Legacy Collection, Resident Evil 0, Streets of Rage, Perfect Dark Zero and Pac-Man Championship Edition.
"When you see the full list of over a 100 you'll see there's really something for everybody to play," explains Nichols. "So if you're a family and you have different people with different tastes this is going to be a really effective way to always have something to play at home."
You could download EVERYTHING (if you had the space)
This isn't a streaming service, you "download and play those games at full fidelity," explains Nichols. So there's no worry about "potentially be[ing] victim to any network issue." You could also download the entire library if you had a big enough Xbox One hard drive. "Yes, so long as you have the appropriate hard drive to support, you can download all the games from the Xbox Game Pass catalog," says Nichols, "because there's no limit to the number of games you can download."
There's no 'always online' requirement to play Game Pass games
"Once a game is downloaded from the Xbox Game Pass catalog to your Xbox One, you can play the game offline so there's no 'always-online requirement,'" Nichols tells me. So you won't have to worry about dodgy connections kicking you out while playing.
There will be new Game Pass games each month
While the number and amount of games "will vary month to month" you can expect something new regularly. "Xbox Game Pass is meant to give fans choice with the ability to discover new games each month," says Nichols. "To do this, the team is constantly re-evaluating the titles in the catalog based on the needs of our fans". Things that have previously been removed could always return though, depending on demand.
If you like a Game Pass game you can buy it at a discount
While reductions haven't been specified as yet, Nichols says, "Xbox Game Pass members can purchase all Xbox One games in the catalog – and related add-ons – at an exclusive discount, allowing you to make them part of your permanent library.
Games Pass is hoping to get as many games as possible
When I spoke to Nichols about 3rd party games and publishers like EA that already have its own subscription services, he told me that the Xbox team will "work with our publishing partners to deliver the best-possible gaming experiences." However, he did admit that, "we realise we won't be able to include every game from every publisher, but we're always listening to fan feedback when we consider what titles to add to our Xbox Game Pass library."
How those games will be selected depends on "a combination of lots of different things" according to Nichols. "Some of it is us looking at games that have been really highly rated and well liked by broad groups of people. We're starting off with those games that have been released and were very popular."
We might see new releases on Game Pass one day (but not just yet)
On the potential of getting day one releases with Game Pass, Nichols says, "how things evolve over time, we'll see. We pride ourselves on listening to customers, and trying to see which things are working and how do they respond to new ideas. So we'll see how things evolve over time but to start off with our focus is on providing the nice package of games that have been available but people might not have been able to take advantage of them up until this point."
http://www.gamesradar.com/xbox-one-game-pass-library-price-games-online-requirements-downloads/
This is tempting. There are too many damn things to subscribe to now. Shit is adding up.
I've had this for 2 months now and have used it exactly once.
Good to know Beers was my thought when would I use it. I tend to look at older or games I missed in the summer slow down but not sure that would justify the costs without new releases.
I looked at this using the free trial. Immediately cancelled, just nothing that interests me. I will probably put it on my kids account though.
Yeah I am interested but I can't justify adding another bill on top of everything else, and I took a peek through all the games and though there are a few I'd be interested in, I'd probably not play them a lot anyway. I have the live service, and ea access. I'll leave it at that for now.
So who does actually subscribe at this point? I know the exclusives being added changes things.
I just canceled mine this month.
Mine actually just ran out.
I'll wait until the first game gets added that I'm interested in before signing back up.
Looked at it again with new games. Xbox exclusives is not enough incentive for me yet. The xbox exclusives have not been wowing me. Not many of them really. I will wait see what else is coming this year.