WWWOOOOOOOO!!! $399 huh… well thats about $50 more than i was planning…
I had just posted this about the quality. At that price point it still better be damn good. If I were interested in VR I would spend the extra $200 and get Oculus which in theroy will have more games and experiences. Bare in mine I already have a PC that will run the Oculus so that wouldn't be and expense to me. Playstation VR would have to have a long list of games and have some killer reviews for me to even consider a peripheral at that price. Because more than likely it will end up like my wheel and pedals sitting in the corner collecting dust.
I agree. I dont have a PC powerful enough, and most of my friends are console based… So the Rift isn't for me.
As of now i am "planning" on gettting it, but this e3 should help solidify that decision in one direction or the other.
I'll sit back and wait a little more to see how the tech develops. Hopefully some people I know will buy one or the other so I can test them out…
I also think that Sony needs to get ppl to experience this in order to really sell it, not just show it on screen. So i imagine that places like Best Buy will have a Set up to go try before the big release to help push pre-orders
@Audible_Silence You were right about it having "speakers" it comes with ear buds.
Curious as to how many of these wires have to be attached for use.
I am thinking you just have the wire connected to the headset and that runs to the black box. Big cord bottom right is an extension for headset cable. Cable on the left goes from box to ps4. Cable on the far left is a charging cable. The rest is for powering the black box. If I am right that isn't to bad.
i like how it looks like a mini PS4… it's gonna be kinda neat to paint and such to match the PS4.
not sure on the cables… i keep ending up with an extra one… Power is obvious, oh wait, got it… bottom 2 are power… like the power brick on the 360/xbone.
wait no… that bottom one lookes like a optical input… need bigger pic.
I think the bottom two are for power. Bottom one is the power brick(insert end is one of the small round power types), the one above plugs into the brick and wall. A picture of the back of the box would answer that.
We also learn that more than 160 games are currently in development for the headset, over fifty of which will be released this year.
Those fifty include:
Eagle Flight (Ubisoft)

 EVE: Valkyrie (CCP Games)


Headmaster (Frame Interactive)


Rez Infinite (Enhance Games)


Wayward Sky (Uber Entertainment)


RIGS: Mechanized Combat League (SCE WWS)


Tumble VR (SCE WWS)


Until Dawn: Rush of Blood (SCE WWS)


PlayStation®VR WORLDS (SCE WWS)

We also get more information on the "cinematic mode" and on the new media player:
"The system also has a Cinematic mode, which lets users enjoy a variety of content in a large virtual screen while wearing the headset. Supported content for the Cinematic mode includes standard PS4 games and videos as well as variety of PS4 features including Share Play and Live from PlayStation. Users will also be able to enjoy 360 degrees photos and videos that are captured by devices such as omnidirectional cameras on PS VR via PS4 Media Player, which will let them feel as if they are physically inside the captured scene."
Cinematic mode will allow us to see videos on a virtual screen perceived like one measuring up to 225 inches at a distance of 2.5 meters:
"Users can enjoy content on a virtual screen up to 225 inches (5 meters in width) at a distance of 2.5 meters. The size of the screen will feel different depending on individual users."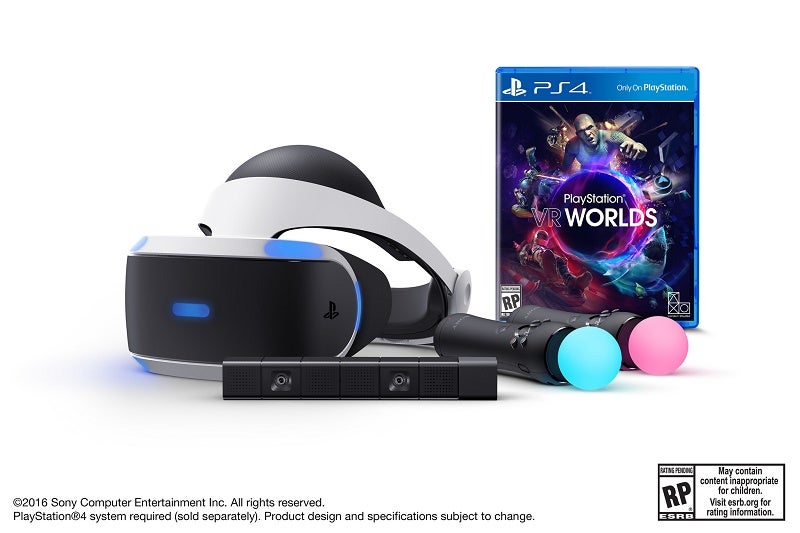 For $500, you can get the VR device, the camera, and two PlayStation Move controllers (remember those?). You'll also get a copy of PlayStation VR Worlds, Sony's Nintendoland-like package of five VR games including The London Heist.
They're gonna open up pre-orders on Tuesday March 22 at 10am Eastern