Alright! Post up your proof of weakness from your winter sale loot!
Here's mine: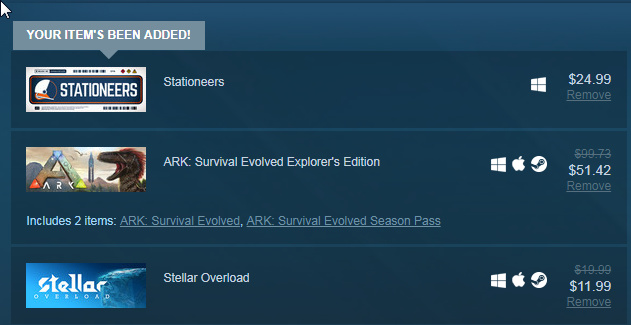 So far I just purchased the DLC for Pillars of Eternity. Problem being I came home wanting to play the game and didn't realize it was 8gb worth of stuff so time to wait for it to download.
Guacamelee??
I'll give them 2 points for clever name.
One of my new guilty pleasures…Metroidvania games
Some GOTY contenders there Dig

Looks like @Lala_Calamari is getting his Steam wishlist for Christmas
This is the least I have ever purchased for the sale though it is still early. Chance for a Steam gift card tomorrow when presents arrive.
Just added Baldur's Gate 2 Enhanced, Torment: Tides of Numenera, Dragon's Dogma: Dark Arisen, and Ylands.
Got Evil Within 2 with Steam cards I got for Christmas
I got Prison Architect and Life is Feudal: Forrest Village.
Not part of Winter Sale but figured it would be relevant putting this article in the thread.
Caved.
"Limited" myself to items under £10 though (~$13.50).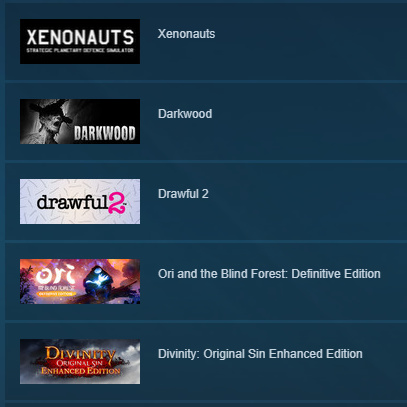 I ended up spending about $110. Most of them are survival. Send help.
This is the least I have ever spent on the sale and likely the least I have cared about it. @anon42851937 and I rant on it all the time but they truly need to bring back the flash sales to make you want to check every day on deals.
I bought Ylands and Stellaris so far, and that's it. 32 bucks, although I may get South Park yet before it's done. Still deciding on that one.
No. I hated that. Constantly having to check and never being sure whether you had the best deal?
I was in danger of spending so much more money with that model.
Yes so a smart business model for them to make more money.
Well yeah.
It clearly would benefit Steam.
Doesn't benefit me anymore though.