Now, I know this gets @Lala_Calamari all excited…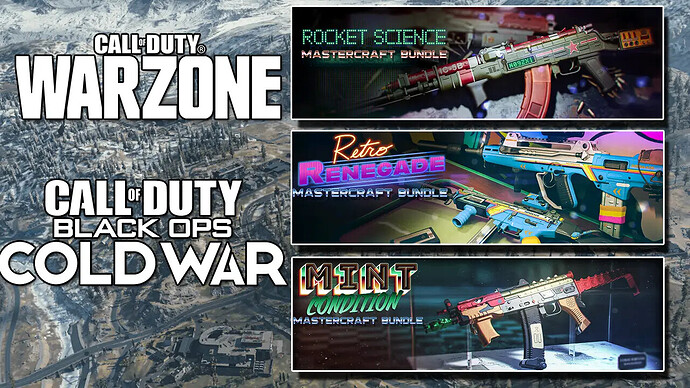 Several Black Ops Cold War & Warzone Bundles have leaked.
It appears all of the Season 1 store packs have leaked for Black Ops Cold War and Warzone, totaling over 100 cosmetic packs.
These bundles will cycle in and out of the Call of Duty store and offer different operators, weapon blueprints, stickers, and titles/emblems. A vast majority of these items are usable in both Black Ops Cold War and Warzone, so your favorite cosmetics will follow you across titles.
Of these packs, three new Mastercraft weapons have been added to the game, which will all be part of their own bundles for 2,400 COD Points. ($20 USD). The weapons in these packs all offer unique inspect animations and a different theme.
Rocket Science Mastercraft Bundle
The Rocket Science Bundle brings us a Mastercraft AK47 and a Bullfrog Legendary Blueprint. Mastercraft weapons are now assigned the "Ultra" rarity in-game to differ them from other rarities. Also included in this pack are rocket/space themed cosmetics and two battle pass tier skips.
The "ICBRifle" AK47 blueprint puts a small rocket on the stock of the weapon and ignites the engines during the weapon inspection animation.
Retro Renegade Mastercraft Bundle
The Retro Renegade Bundle shows off an epic 80's theme, complete with bright colors and a KSP Mastercraft Blueprint that plays music.
Simply inspect your weapon to toss in a tape to start listening. The bundle also comes with a Legendary FFAR Blueprint and retro-themed cosmetics.
Mint Condition Mastercraft Bundle
For our final set, we have the Mint Condition Mastercraft Bundle. The Mastercraft weapon is an AK-74u that looks like a colorful toy gun.
This bundle doesn't include a second weapon blueprint like the other bundles but gives some cool toy-themed cosmetics.
If you'd like to see all of these Mastercraft skins in action, the YouTube video below by user Elvis shows us all the upcoming animations and blueprints.