mmm…new faction (not frozen hive)
Destiny 2's fall expansion will introduce a new faction of The Fallen, which have been spotted in the DLC's trailers but up until now have not been explained very much by developer Bungie. But this week during E3, Bungie's Scott Taylor and Christopher Barrett opened up a little more about exactly who these new enemies are and detail one of the new units that players will face.
The new faction of The Fallen in Destiny 2: Forsaken are called The Scorn, but as Taylor and Barrett go onto detail, they aren't quite Fallen. That's because The Scorn are resurrected, reanimated Fallen. Taylor told Heavy that The Scorn were Fallen at some point, but through death and resurrection, they've turned into something else. And according to Barrett, The Scorn aren't technically under any official house of the Fallen:
"Think of them as Fallen zombies, Fallen undead – that kind of thing. So they're going to be pretty terrifying."
Because they aren't typical Fallen, Barrett says that The Scorn will bring an entirely new set of abilities and gameplay that players haven't seen before.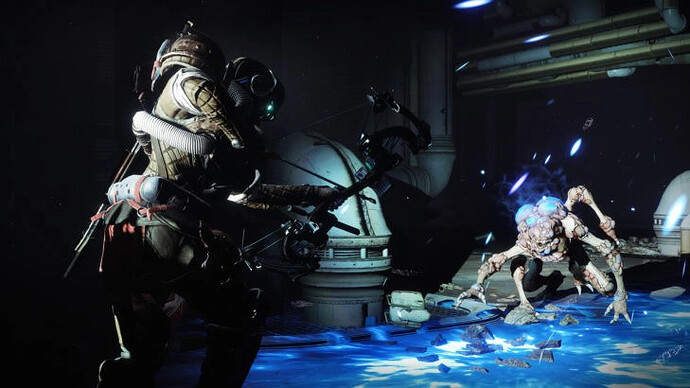 Barrett said Bungie will reveal more about The Scorn and the tricks they have up their sleeves later this summer, but he did detail one of The Scorn units players will have to face in Forsaken called The Ravager.
"That is a character that pulls a chained sensor or mace that's filled with magical flame. As the character is running at you they are spinning this sensor that is on fire. One of the cool things is that's actually the weak spot for killing that character. So if you get a precision shot and shoot the flaming sensor it will explode in a big ball of fire and ignite the other characters around."
The addition of another race (or subset of an existing race may be more accurate) will be welcome since many longtime fans have complained how Destiny 2 failed to introduce any new enemy races into the sequel saying that much of the enemies feel similar to what they have already been fighting against since Destiny 1.
The addition of The Scorn along with a bevy of changes coming to Destiny 2 is Bungie's move to try to reinvigorate its fans and re-engage them as Destiny 2 officially goes into its second year.
Destiny 2: Forsaken releases on September 4, 2018 for PC, PS4, and Xbox One.