Bungie is a development studio that doesn't shy away from secrets with its games. Destiny is a great example of this as players discovered all sorts of easter eggs and secrets like the ARG for the exotic pulse rifle Outbreak Prime, a secret Black Spindle quest, and much more. With Warmind set to hit the world of Destiny 2 next week, Bungie has once again started preparing the community for plenty of new things to solves, from the weird, cryptic Tweets from Christopher Barrett to a new set of clues potentially tied to new Warmind armor revealed just recently.
Naturally, after seeing the new Warlock armor coming in the latest Destiny 2 DLC, fans on Reddit, like Loungeshark and Aioros_Y, immediately go to work deciphering the text string seen in the description for the Yuga Sundown Helmet. As it turns out, the odd description text didn't stop with that helmet as the rest of the Yuga Sundown gear set contained the 67 character strings as well as the Titan Midnight Exigent set and the Hunter Abhorrent Imperative set as well. These set items can be gathered from the recently revealed Escalation Protocol game mode, so many fans have begun calling them collectible puzzle pieces.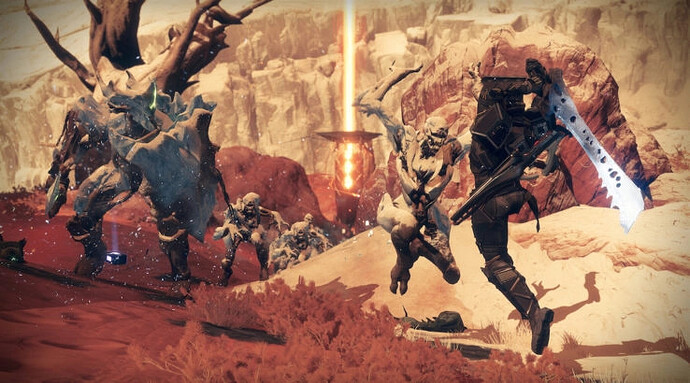 The set names themselves are actually directives that are referenced in the Rasputin 5 Grimoire Card and GHost Fragment Rasputin 3 from the original Destiny. That fact helped trigger the discovery by Aioros_Y who took the strings and used a frequency analysis to start to piece together the message. While not all of the gear pieces were shown, which leaves portions of the message blank, the Reddit crew has managed to unlock most of the message which appears to originate from Rasputin. The Warmind looks to be reporting on the current situation on Mars and could be using the Escalation Protocol to run some sort of experiment on Guardians and the Hive trapped there.
The Warmind armor represents only a fraction of all the new gear being introduced in the third season as well as the Warmind expansion. Classic fan favorite exotics like the Suros Regime are making their long-awaited return to the franchise. Class specific gear like the Titan's Armamentarium or Hunters Sealed Ahamkara Grasps are also joining the likes of new gear and weapons including the new SMG, Huckleberry. Considering how well the community responds to these sort of ARGs and easter eggs and the large amount of new loot on the way, perhaps Bungie has more secrets for players to uncover starting next week.
Destiny 2 and its Curse of Osiris expansion are available now on PC, PS4, and Xbox One. Warmind launches May 8, 2018.
I think this stuff is so cool