Sony Announces E3 Showcase: Dates, Times and Key Games
E3 is a month away, and we've been waiting patiently for Sony to reveal their schedule and strategy for the event. To thank us for that patience Sony have gone one step further, unusually announcing the four key games we can expect the 2018 Showcase to focus on.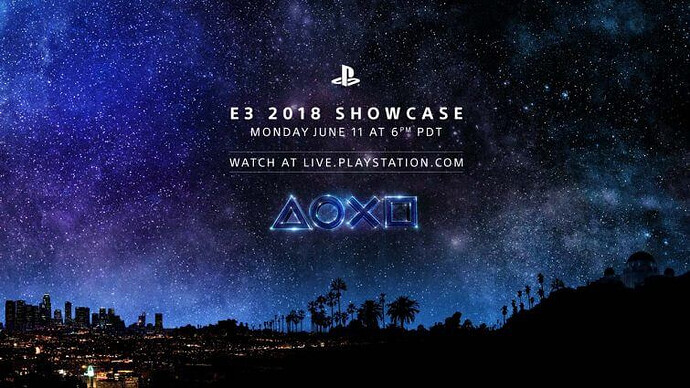 Those four games are fairly predictable given last year's announcements, but exciting nonetheless. Spider-Man will get a last big outing at an event before its release on September 7th, and of course we all expected a significant focus on The Last of Us Part II after an explosive teaser at the end of last year. The other two games headlining the Showcase will be Sucker Punch's Ghost of Tsushima, the samurai game briefly teased at Paris Games Week, and Hideo Kojima's bizarre and currently unintelligible DEATH STRANDING.
Shawn Layden, Chairman of Worldwide Studios, appeared on the PlayStation Blogcast and hinted at "a different angle in how we're bringing [the games] out" at the show, mentioning "deep dives" several times. This is big news for three of the titles which have had little more than teaser trailers since announcement, but even the heavily-previewed Spider-Man will have a "drop which will blow [us] away". This will hardly be everything on offer — announcements from "third-party partners" and independent developers can be expected as well. And as for those wild PlayStation 5 rumours swirling since last year? Layden confirmed on the podcast that there will be no hardware announcements from Sony at E3.
The Sony E3 2018 Showcase will be on Monday June 11th at 6pm Pacific time. Unfortunately for those of us across the Atlantic will have to stay up until 2.00am BST/3.00am CEST on Tuesday 12th to catch the show live.
For you Sony Players, which are you looking most forward to?
Death Stranding
The Last of Us Part II
Ghost of Tsushima
Spider-man
Other unannounced surprises
None of the Above
Arrghh I didn't realise it was only pick 1!!
Spiderman could be amazing and I'm sure I'll love TLOU Pt2.
Death Stranding I'm just unsure what the game is / whether it'll be for me. I expect it will likely be a critical success regardless.
EA Play
At 11 a.m. PDT on Saturday, June 9, 2018, we'll kick off one of the biggest video game entertainment events of the year.
Gameplay reveals. Big announcements. Some of the biggest content creators in gaming.
And most importantly—you.
Join us for a livestream of our EA PLAY press conference where we will take you inside some of our biggest games of the year, live from The Hollywood Palladium. The next Battlefield, Anthem and some of your favorite EA SPORTS games will all have big reveals during the show. You won't want to miss it.
Following the show, stay with us on EA.com through June 11 for developer interviews, behind-the-scenes at EA PLAY content, and more. Our network of EA channels—EA.com, YouTube, Twitter, Facebook, and Instagram—will be your online home throughout the event for inside access into all our games.
If you're planning to attend EA PLAY in Hollywood, you can access pre-registration via register.ea.com. Be one of the first to get hands-on access with some of our biggest games, and don't forget - tickets are FREE!
https://gamerant.com/e3-2018-game-developer-list/?utm_medium=push_notification&utm_source=onesignal&utm_campaign=onesignal
E3 2018 is right around the corner, and it's set to be one of the most stacked years for the show yet. There are a number of high profile, blockbuster releases already confirmed for the show, and when one combines those with the surprises that are no doubt in store, it's clear that this year's E3 is going to be huge.
As it stands, there are a number of games confirmed for E3 2018, including some from the companies hosting press conferences to games by other developers and publishers. Some of these games will be playable on the show floor, and others will only be seen as trailers or video packages.
Here are all the games confirmed for E3 2018 so far.
Electronic Arts
anthem-solo-play-helmet
Thanks to the Star Wars Battlefront 2 loot box controversy and the disappointing Mass Effect: Andromeda, public opinion of Electronic Arts seems to be relatively poor, but EA has a chance to turn around its misfortunes at E3. The publisher has theopportunity to impress fans with games like Anthem and Battlefield V, and it will also be showing its upcoming slate of sports games, new mobile games, and new content for The Sims 4.
Anthem
Battlefield V
New Mobile Games
New Sports Games
The Sims 4
Microsoft
Xbox E3 Presintation 2016
As far as E3 2018 press conferences go, Microsoft's is mostly shrouded in mystery. Some leaks have suggested that Gears of War 5 will be announced at the event, but otherwise, Microsoft has managed to keep its cards close to its chest. Forza Horizon 4 is the only game fans are guaranteed to see at E3, but there's a possibility some of Microsoft's biggest franchises, including Halo and Fable, could also make appearances and Crackdown 3 will likely be a part of the show.
Forza Horizon 4
Bethesda
fallout 76 vault suit
For the past few years, Bethesda's E3 presentation has been a highlight of the show, offering fans a look at what the award-winning company has in store for the next year. This year's show will look to put many of the rumors surrounding the recently announced Fallout 76 to rest, give fans an extended look at Rage 2, and offer some updates for The Elder Scrolls: Legends. Surprise game announcements and reveals are also expected, including a potential Fallout 3 remaster, so Bethesda may very well steal the show again.
Fallout 76
Rage 2
The Elder Scrolls: Legends
Square Enix
kingdom-hearts-3-jungle-book-world-rumor-sora-goofy
It's not every year that Square Enix has an E3 press conference, so fans are expecting some big news from its presentation on June 11. We only know of two games that will definitely be shown by Square Enix, those being Shadow of the Tomb Raider and Kingdom Hearts 3, with the latter expected to finally get a release date announcement after having originally been announced at E3 five years ago.
Kingdom Hearts 3
Shadow of the Tomb Raider
Ubisoft
assassins creed odyssey teaser trailer
As far as major presenters go, no one has been as open about what it's bringing to E3 as Ubisoft. Ubisoft has confirmed seven games it will be showcasing at the event this year, with major reveals planned for games like Assassin's Creed Odyssey and Tom Clancy's The Division 2. Rumors point to a new Splinter Cell game being announced during Ubisoft's presentation as well, with the stealth action franchise having been dormant for about five years.
Assassin's Creed Odyssey
Beyond Good and Evil 2
For Honor
Skull & Bones
Starlink: Battle for Atlas
Tom Clancy's The Division 2
Transference
Sony
amazon-no-pre-order-ps4-exclusives-spider-man
Prior to E3, Sony confirmed that its presentation will primarily focus on four games: Death Stranding, Hideo Kojima's first post-Konami project; Ghost of Tsushima from the developers of Sly Cooper and Infamous; the PS4 exclusive Spider-Man project in development at Insomniac Games; and of course, the long-awaited The Last of Us: Part 2.
While Sony's focus will be on those four titles, the company is also expected to highlight some other games, with Dreams from Media Molecule confirmed for the show. It's likely that Sony has some surprises up its sleeve as well, so PlayStation enthusiasts should be sure to tune in.
Death Stranding
Dreams
Ghost of Tsushima
Spider-Man
The Last of Us: Part 2
Nintendo
Play Super Smash Bros. Switch E3 2018 tickets
Technically, Nintendo has only confirmed two games it will be showing at E3 this year, those being the already-released Splatoon 2 and the in-development Super Smash Bros. However, it would be surprising if Nintendo didn't use E3 as a time to shine a spotlight on Pokemon Let's Go Pikachu and Let's Go Eevee as well, though it's important to note that those games aren't confirmed for E3 at the time of this writing.
Besides the games Nintendo has already announced for E3, fans should be able to expect some surprise game announcements, in addition to new looks at previously revealed Switch titles like Yoshi and maybe even Metroid Prime 4.
Splatoon 2
Super Smash Bros.
Other Games
Call of Duty Black Ops 4 multiplayer trailer
Of course, there will be other games besides than the ones published by those showcasing the big conferences. Below is a list of all the other games confirmed for E3 2018:
Adventure Time: Pirates of the Enchiridion
A Plague Tale: Innocence
Call of Cthulhu
Call of Duty: Black Ops 4
Call of Guardians
CD Projekt Red's New Game (likely Cyberpunk 2077)
Defender's Quest: Valley of the Forgotten DX
Farming Simulator 19
Fear the Wolves
Fortnite
Galak-Z: Variant S
GreedFall
Insurgency: Sandstorm
Mega Man 11
Monster Hunter Generations Ultimate
Ooblets
RollerCoaster Tycoon Switch
Sable
Serious Sam 4: Planet Badass
Spintires: MudRunner
Strange Brigade
Street Fighter 5: Arcade Edition
The Surge 2
Team Sonic Racing
Vampyr
Anthem is the only thing I'm super excited for. Also hoping to get a PS4 this fall so Spiderman and hopefully FFVII.
Fallout, Anthem, The Division 2, Last of Us: Part 2 and Cyberpunk 2077 will have my attention.
Really good lineup all around though.
Why no mention of HALO game.
Still waiting on a borderlands anything announcement!
Still waiting for a Portal 3 and/or Left for Dead 3 announcement. Let's throw in a Half-life teaser while they are at it. LOL
I'm pulling for Sqeenenix…to bring something good…but in general based on what on the list…I have low expectations…like the Solo movie…aim low, can't be disappointed
E3 begins tomorrow, and after last year's big focus on the Xbox One X, this year is looking like it will be all about the games. Here on TrueAchievements, we'll have more ways than ever for you to get involved and stay up to date with all the latest announcements as they happen.
E3 Hub
Our E3 hub has returned and will be your one-stop shop for everything E3 related. You'll be able to access all of the latest Xbox and Windows 10 related news, watch live streams of the press conferences, and jump into the TA Chatroom to discuss all of the events so far.
Live Blogs
Last year, we completely redesigned our live blogs to make them more interactive than ever before. Like last year, we'll have a live blog running during each of the press conferences so that you can stay up to date with all the latest news, along with updates from TGN Towers and our Editorial Manager Mark, who will be in the audience for the events and on the show floor throughout the week.
For each blog, you'll be able to watch a live stream of the press conference, chat to other members of the TA community and get our reactions and feedback in real-time all on the one page.
Twitter
As always, we'll be live Tweeting from the TrueAchievement Twitter account throughout each event to keep you up to date, running polls for you to vote in, and asking you to get involved and share your thoughts on each announcement using #TAE3.
TA Podcast
We'll be recording a special live edition of the TrueAchievements podcast on YouTube as soon as the Microsoft press conference ends on Sunday, and we'd love for you to join us in the chat to give us your feedback from the show and ask questions. You can set a reminder to tune in below:
On Thursday, we'll be recording our E3 special where we'll talk about all of the big news, sharing our thoughts on what we've seen, and we'll be inviting you to ask questions and share your thoughts on the future of Xbox.
Lastly, on Friday, we'll be rounding up our week of E3 coverage when Jack and I are joined on the podcast by Mark and our special guest Patrick Maka, who will be sharing their experience of this year's E3 and giving us their impressions of the hands-on gameplay previews from throughout the week.
Instagram
If like me, you've not been fortunate enough to make it over to E3 in person, Mark will be sharing photos and videos from the press conferences and the show floor throughout the week on our Instagram account.
Press Conference Schedule
Publisher Date Time PDT Time EDT Time BST Time CEST
EA June 9th 11:00 14:00 19:00 20:00
Microsoft June 10th 13:00 16:00 21:00 22:00
Bethesda June 10th (NA) / 11th (EU) 18:30 21:30 02:30 03:30
Square Enix June 11th 10:00 13:00 18:00 19:00
Ubisoft June 11th 13:00 16:00 21:00 22:00
Sony June 11th (NA) / 12th (EU) 18:00 21:00 02:00 03:00
With more information on the games that we already know are coming our way, along with rumours of unannounced sequels and new IPs, it's shaping up to be an exciting E3 week. What are you hoping to see?
Cannot wait for Anthem!!!
From Xbox
Full stream:

Trailers:

Phil Spencer also announced that Microsoft Studios has created a new studio called The Initiative based in Santa Monica.
They also added these studios to their lineup:
Undead Labs(makers of State of Decay1 &2)
Playground Games(makers of Forza Horizon series)
Ninja Theory(makers of HellBlade)
Compulsion Games(makers of We Happy Few)