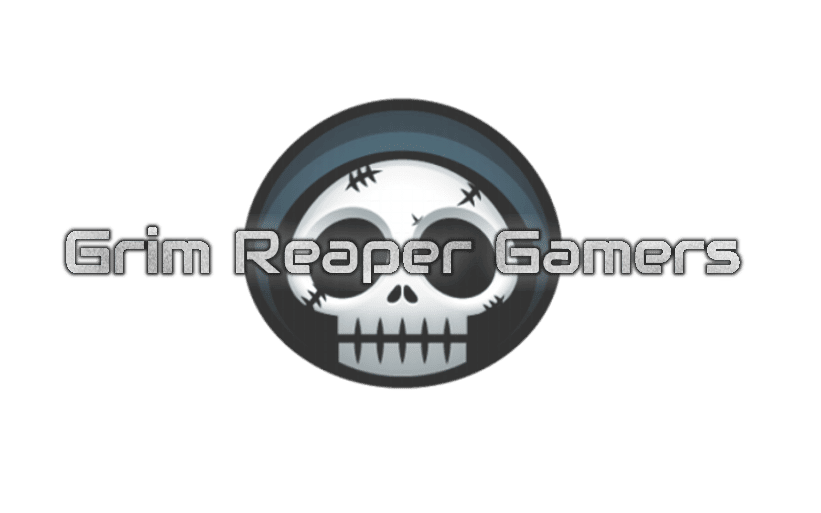 Your dosage of Gaming Randomness from around the Web!!!
Gaming News
Video game player of the century' stripped of records after Donkey Kong scandal
Billy Mitchell achieved record scores on retro game Donkey Kong and Pac-Man. But due to investigation many years after the achieved records, Twin Galaxies claims that the record were not achieved via old arcade machines. But instead claim the Billy used Multiple Arcade Machine Emulator(MAME) or some softward that replicates the games. Friday, Guinness World Records removed the records achieved by Billy, citing Twin Galaxies as their verifcation meathod.
PUBG Savage Map Returns Again Tonight For Some Players
PlayerUnknown's Battlegrounds' smaller tropical-themed map, Codename: Savage, is returning to the Closed Experimental Server very soon. The map will be available for a second round of testing beginning tonight, April 16, giving select PC players another opportunity to try it out before it officially arrives to the game.

Remasters, Remakes and Backward Capability
Right now we are seeing a upsurge in Nostalgia Fever. 2018 is quickly becoming the year of video game remasters and backwards capabilities. Microsoft recently announced 19 games from the orginial xbox that will be making their presence soon on the XB1, Nintendo continues to push classic games through its Virtual Console, and now even Sony is looking back on PS1 classics and trying to find ways to redo these games.
For some this is video game heaven, but for those on the other side of the gaming line…this is just wasted time. Why remake the old games? Well for one…there is still profit potential. And again on the flip side, why dont these company take that attention and focus their efforts on new titles.
Check out the following links for the various stories and reply and at the GRG Forums to give us your thoughts on the matter.
Fortnite, not just a game but an epidemic
As the Battle Royal Cartoon that appeared not long after widely popular PUBG…its increasing popularity is something that is being questioned as a "Good Thing"…all over the country it appears that this game is sweeping through households on the daily. Even recently in the news we heard about FORTNITE player 'Ninja' and controversial comments/words. The is no doubt this game is something that will be around for a long time coming. Check out the articles below to see more on how this game has effected some players.
State of Decay 2, not a Microsoft exclusive?
The upcoming Zombie Apocalypse has many Xbox players excited. With this sequel we are getting 4-player co-op, basebuilding(to a degree) and a massive new map. However lately its become of question if this is actually a 'Microsoft Exclusive'.
Recently at PAX East…many games were being demo'ed and showcased. While State of Decay 2 was showing, an odd 'error' popped up. Check out the article for more and let us know on the forums what your thoughts are.

NO MAN's SKY coming to XBOX
An wildly hyped action-survival game produced by Hello Games. The HYPE was real prior to the release of this game. Claiming precedurally generated open universe that you can run into other players with…fell short in the actual release. However since the release…there has been many updates that has somewhat 'renewed' the game and fulfilled some of the broken promises for the release.
The latest…NMS while on PC and PS4, announced its soon arrival to the XB1. With mixed reviews largely because of its broken launch…this is a title that still may be worth your while to check out. Click the above link to see the 'leaked' Release date.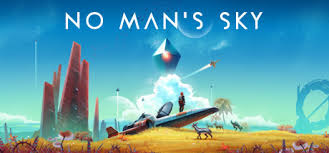 Bioware promises more focus on storylines
The company took a rough hit with Mass Effect: Andromeda. A game that was highly anticipated as the Mass Effect Series is one of Bioware's Gems. With expected DLC to finish off the story of Mass Effect, Bioware announced last September that no more updates would be coming.
With the announcment also came the refocusing of attention on their next 'Big' game Anthem(YouTube). Anthem(Website) will be playable on PC, XB1, and PS4. The game is promising a 4 player co-op and is currently expected for a 2019 1st quarter release.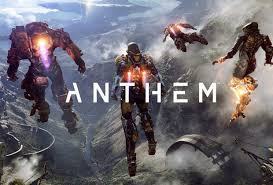 UBISOFT's Watch Dogs
An actiion-adventure developed by UBISOFT, know for the Assassion's Creed series, that was similar to Rockstar's GTA series. However Watch Dogs focus'ed more on the Technical Advances of modern day and added a 'Hacking' aspect to their games.
The first release was highly anticipated but also highly criticized at release. In UBISOFT fashion, they learned from the first release and not only fixed but released a successful successor with Watch Dogs 2.
Well with success comes profit and with profit comes another sequel. Ubisoft is hinting at a third title in the series. Check out the links for more.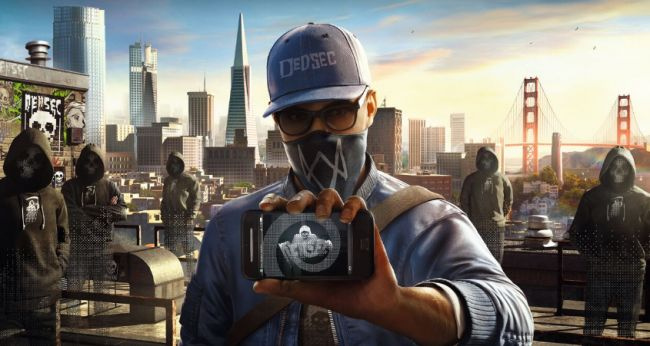 PC CPU's…AMD vs INTEL
Always the debate and each PC player has their preference and reasoning behind them. Well each of the powerhouses continuously put out better and better products for their audiences. Check out below articles for the latest news.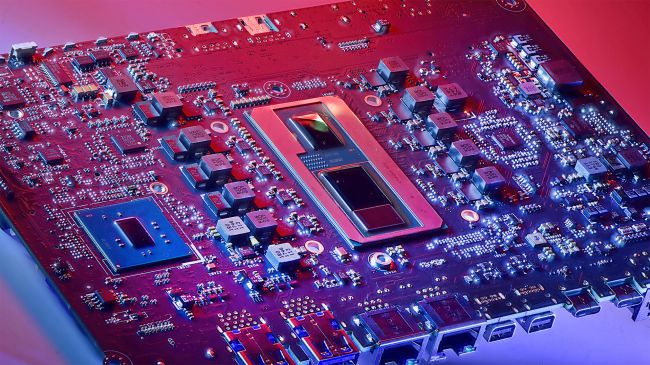 GOG PC 85% Gaming Sale - Ends on April 23
Thats right PC gamers…there is a SALE going on. And you can never have enough games. Check the 150+ games that were the most 'wishlisted'. GOG added 'tabs' to navigate around just a bit easier.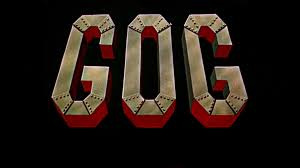 Dragon Quest XI delayed on the Switch
Ah, Dragon Quest…a RPG series that until 2005 was known as Dragon Warrior in North America. Like the Final Fantasy Series, the basic premise of DQ titles is to play a hero who saves the lands/world from a disastrous evil force. With Cartoon style graphics this series is a fun adventure that can be family friendly.
With the relase of DQ XI for PC and PS4, Switch players are still waiting. Check out the link above to find out why.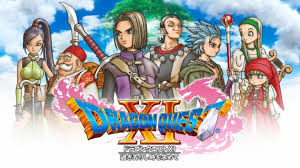 Living as a man outside the shadow of the gods, Kratos must adapt to the unfamiliar Norse Lands, unexpected threats, and a second chance at being a Father
A highly expected title set to Release on April 20th, 2018, critics are giving the highest praises to the exclusive title. Even a few in GRG have talked about purchasing a PS4 just for this game. Do you have it pre-ordered? Time taken off work? Tell us your excitement and plans on the GRG Forums.
OUT NOW & COMING SOON
IGN's Upcoming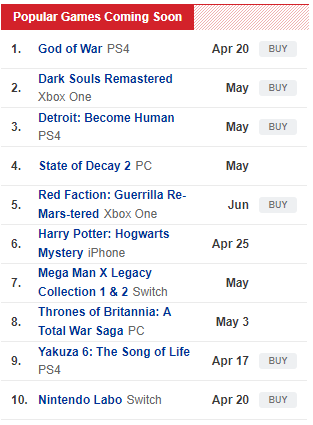 Xbox Games Coming Soon


Amazon Video Games Coming Soon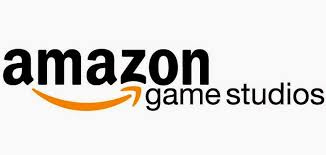 Originally published at: https://grimreapergamers.com/2018/04/gaming-news-today-in-the-world-of-video-games/