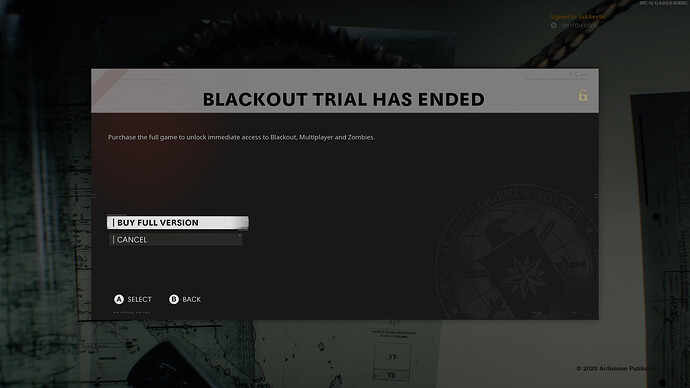 Following the new patch update on December 8 for Black Ops Cold War, some Xbox users are facing challenges in order to play.
The newest update for Call of Duty: Black Ops Cold War went live on December 8 across all platforms, but some Xbox players are unable to play.
After the update has been installed, when loading update the game, there's an error message popping up saying that the Free Trial has ended and you need to buy the game to continue.
The message goes to call the game a "Blackout Trial" has "ended". And they have to buy the full game to get "Blackout, Multiplayer, and Zombies." Blackout references are of course left over code from Black Ops 4 that appears to have made its way into the Black Ops Cold war game code.
Of course, all these users already own the full game and are now temporarily locked out from playing the game.
Treyarch has not yet acknowledged the issue, but there is a temporary work around.
Go to "Manage Game & Add-Ons"
Select "Black Ops Cold War"
Check to see the Installed items for Black Ops Cold War
Ensure all items listed there are checked and installed
Restart your game