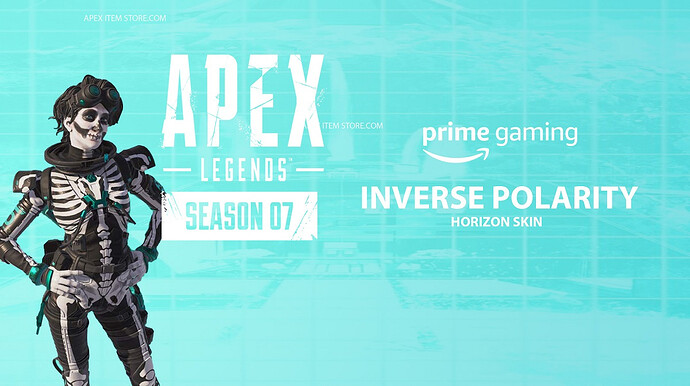 Apex Legends Season 7 has arrived, and if you have a Prime Gaming subscription, you can gain access to a brand-new skin for free. Here's everything you need to know to grab Horizon's 'Inverse Polarity' skin.
Ascension is the newest season of Apex Legends, and has brought along a plethora of amazing new content, including the new Legend Horizon. She has immediately become a fan favorite with players, and if you have an active Prime Gaming (previously called Twitch Prime) subscription, you'll be able to unlock a free skin for the character.
Respawn has added the Inverse Polarity skin for Horizon that will make her resemble a skeleton, and it's awesome. Along with some teal accents, it's certainly one of the most striking skins in the game, but it's available for a limited time only.
How to get Horizon's Inverse Polarity skin for free
Owning the Apex Legends Season 7 Battle Pass alone will not be enough for you to claim the Inverse Polarity skin. As mentioned above, you must have an active Prime Gaming subscription, and you need to claim the skin before December 28. Here's how you can acquire it:
Head to the Apex Legends Prime Gaming website
Look up the Horizon Inverse Polarity skin and then select 'Claim Now'
Enter your account information to claim the skin and it will be added to your Apex account
If your EA account is not linked with Twitch already then you will have to link the two at the EA website before you can claim it.
The Inverse Polarity Skin can be claimed with Prime Gaming.
If you don't have a membership then you can select 'Try Prime' when you have to enter your information into the Apex Legends Prime Gaming loot page. This will give you a free trial during which you can acquire the Inverse Polarity skin.
That's all you need to do to get your hands on the skin, but remember — the Inverse Polarity skin is only around until December 28, so be sure to claim the skin before time runs out!