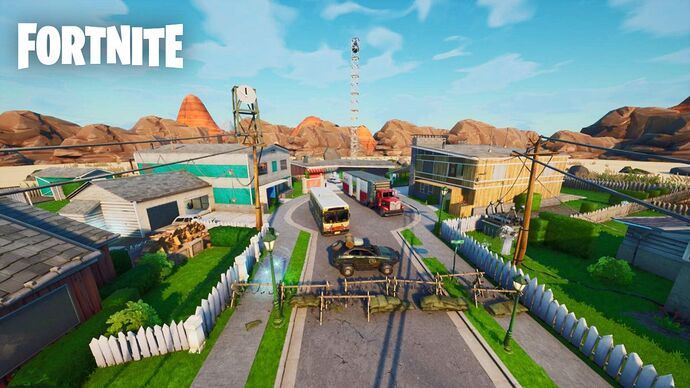 CoD fans can relive the classic Gun Game mode on Nuketown through Fortnite Creative. Here's how to play Nuketown Gun Game in Fortnite, including the Creative map code needed to access it.
Alongside the regular battle royale and Zero Build modes, Fortnite players can enjoy a number of weird and wonderful playlists thanks to Creative mode. These can range from maps that Epic have made themselves, such as Dragon Ball Adventure Island, or designs from the community.
One of the most popular fan-made inventions in Fortnite Creative is Nuketown Gun Game, inspired by the iconic game mode and map first introduced in Call of Duty: Black Ops back in 2010.
Here's how to play Nuketown Gun Game in Fortnite, as well as the Creative code needed to enter.
What is Nuketown Gun Game in Fortnite?
Nuketown Gun Game is a Fortnite Creative playlist designed by 'Jesgran,' that brings the fan favorite CoD mode to Epic's battle royale. Players spawn into a loving recreation of the original Nuketown from Black Ops, and take a part in a free-for-all deathmatch.
The twist is that after each kill, the weapon you are using is randomly swapped for another one in the Fortnite arsenal. This forces players to score an elimination with guns they may not like and would usually leave behind in a regular battle royale match.
The winner is the first to reach 20 kills and secure an elimination with every one of the weapons on offer.
Nuketown is one of the most iconic maps in Call of Duty history.
How to play Nuketown Gun Game in Fortnite
Fortnite players can access Nuketown Gun Game using the Creative code: 6722-4469-6989. Simply bring up the game modes menu and head over to the 'Island Code' tab before entering the code.
Then, simply start the game as normal and you'll be loaded straight into Nuktown just like in 2010.
We've included a step-by-step guide on how to play Nuketown Gun Game in Fortnite below:
Load into Fortnite.
Use Square/X to bring up the mode selection menu.
Scroll over to the 'Island Code' tab.
Enter the code 6722-4469-6989.
Hit 'Play.'
Start the game to bring Nuketown Gun Game to Fortnite.