The Call of Duty: Black Ops Cold War Multiplayer reveal is a few days away, and we wanted to let fans know exactly where to tune in to see the reveal.
Fans can watch the Multiplayer Reveal for Call of Duty: Black Ops Cold War starting Wednesday, September 9 at 10AM PT.
Be among the first to see the next generation of Black Ops Multiplayer. The biggest streamers in the world come together with Call of Duty® developers to give you a deep dive into the latest Multiplayer experience across new maps, modes and experiences .
Start time:
Wednesday, Sept. 9

10AM PT
12PM CT
1PM ET
6PM UK (BST)
7PM CEST (EU)

Thursday, Sept. 10
Where to Watch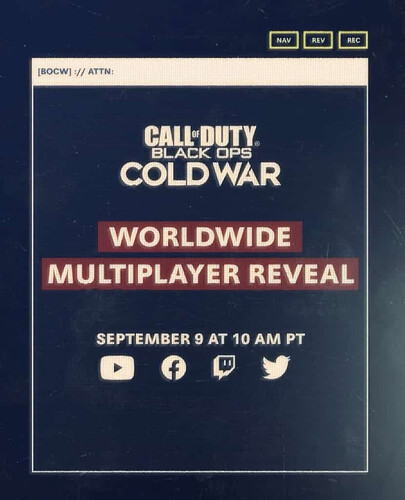 And, the stream will also be live on Call of Duty's YouTube, Facebook and Twitter pages.