Capcom has seen unprecedented success with Monster Hunter World, as the game has quickly gone on to become its best selling game in company history. Part of the reason for its sustained momentum is the steady pace of new content, from free updates to interesting franchise crossover events with other games like Street Fighter 5 and Horizon Zero Dawn. One of the more anticipated events involves the classic Mega Man franchise and after teasing it last year, the long awaited crossover event is finally live.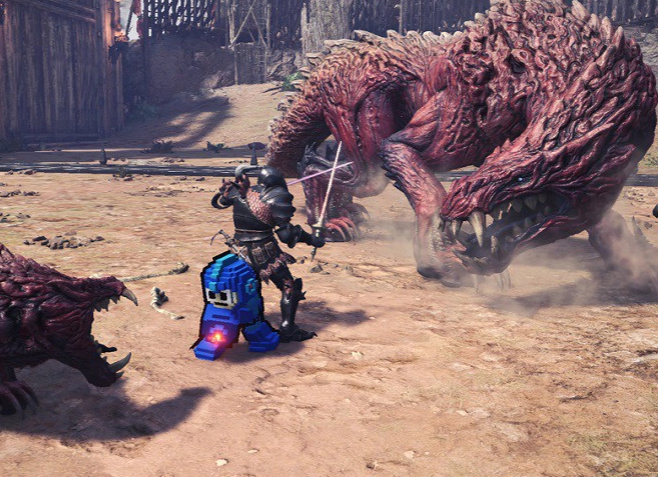 After loading in, Monster Hunter World players can select A Rush of Blood from the Events section from the quest board. The quest puts players in the arena against 2 Odogaron with one being much smaller than normal and the other much larger. Naturally, this quest is also great for earning gold crowns. Finishing the quest rewards Odogaron parts as well as Mega Man Tickets and when five are earned, players can forge a full, pixelized Mega Man costume for the Palico as well as a mega buster weapon.
As a neat side bonus to this event, the in-game music changes to a classic 8-bit Mega Man theme song based on the weapon that the player is using. For example, the Great Sword changes the arena music to Dr. Wily's Stage from Mega Man 2, while the Charge Blade plays Snake Man from Mega Man 3. Unfortunately, this pretty cool detail doesn't apply to the other parts of the main game, only for this specific arena quest. Another thing players should remember is that A Rush of Blood is a 7 star quest and players need to be at least hunter rank 13 in order to take part in the event.
While players have until (??) to get equipped with Mega Man inspired gear, the crossover content doesn't stop there as Capcom recently announced the start date for its next event featuring Devil May Cry. Starting on April 27, players can take part in the Code: Red quest which earns them Dante's Alpha armor as well as a charge blade that is made to look like the thunder sword Alastor. A gesture is also available that features Dante's iconic guns, Ebony & Ivory.