Warzone 2.0
The Warzone 2 map was revealed at Call of Duty Next, bringing classic Modern Warfare 2 maps as POIs in the brand-new Al Mazrah map.
Warzone 2 is scheduled for release on November 16 and Call of Duty fans have received fresh battle royale information from the Call of Duty Next event. Warzone 2 will not shy away from innovation as the sequel will new circle mechanics, a new backpack system, and so much more.
Despite the new mechanics that should alter gameplay, players also got their first official look at the new Warzone 2 map, Al Mazrah. While certain interesting POIs were leaked a while back, we finally got confirmation that classic Modern Warfare 2 (2009) maps will be found across Al Mazrah.
Warzone 2 Al Mazrah map overview
Warzone 2 will take players to a desert region called Al Mazrah and will be the biggest map they've ever made, featuring various landscapes including bodies of water, deserts, and urban buildings.
Al Mazrah will feel like the most vibrant Warzone map to date, as the new AI will bring the location to life.
While content creators at Call of Duty Next were able to test an Alpha version of Warzone 2, the early iteration did not detract from the excitement. Most players were most excited about nostalgic Call of Duty maps making a return as several Al Mazrah POIs.
Every Warzone 2 Al Mazrah map POI
Oasis
Taraq Village
Quarry
Rohan Oil
Al Mazrah City
Caves
Hydroelectric
Marshlands
Port
Sa'id City
Observatory
Al Sharim Pass
Cemetery
Abkdar Village
Sawah Village
Sarrif Bay
Fortress
Airport
Nostalgia is a powerful component of the Call of Duty franchise, and most players have fond memories of 2009's Modern Warfare 2. For this reason, players are bound to be excited by the fact that Highrise, Terminal, Quarry, and Modern Warfare 3's Dome are part of the Warzone 2 map.
Highrise and Terminal, in particular, were two of the most popular Modern Warfare 2 maps. Previously, leaks hinted that these maps would play a part in Warzone 2, but we finally have confirmation that they're Al Mazrah POIs.
It's also rumored that these classic maps turned Warzone POIs will make their way to Modern Warfare 2 multiplayer at some point, but this has yet to be confirmed.
The ever-closing circle is the battle royale genre's defining feature, making sure players are constantly being brought closer together as more die out. Warzone 2 arrives on November 16, bringing major changes to the circle mechanic.
Warzone launched as part of Modern Warfare back in March 2020, and Modern Warfare 2 brings 'Warzone 2.0' on November 16. This sequel will be an entirely new game featuring the brand-new Al Mazrah map, all of Modern Warfare's weapons and Operators, and new mechanics such as the Gulag 2.0.
Whether it be a storm, a ring of gas, or a lethal forcefield, the ever-closing ring is a staple of the battle royale genre. Warzone 2 doesn't just change the game's looting and armor systems but there will actually be multiple circles closing on Al Mazrah.
Now, instead of the one massive circle that closes to an extremely small point over the course of the match, there will be several circles all closing at the same time. Infinity Ward said that these multiple circles will change the end-game scenarios.
"We've got this new mechanic where the circle can split into up to four different circles," Infinity Ward revealed during CoD Next. "It segregates teams, and you have micro-battles in the smaller circles."
The circles then merge as the game comes to an end, creating one final fight for the win. "It's another twist in the gameplay," Joe Cecot explained.
Not only does Warzone 2 bring an entirely new map, weapons, and mechanics but the Gulag is getting a major shakeup in CoD's battle royale sequel.
Warzone immediately set itself apart from other battle royale games by including the Gulag, a 1v1 arena where eliminated players fight it out for the chance to return to the fight. There have been several Gulag maps since Warzone launched, but the mode is getting a major change with November 16's Warzone 2.
Warzone 2 has officially been unveiled at Call of Duty Next, with content creators duking it out in the brand-new Al Mazrah map. This also showed the new Gulag 2.0 with its 2v2 fights, lootable weapons, and the Jailer.
Once a player dies in Warzone 2, they're sent to the new Gulag which is far more open than those we've seen before.
Unique to Warzone 2, the Gulag will be fought 2v2 where you will form "a temporary alliance" with an enemy player, looting weapons throughout the map. Plus, you'll also be able to use the proximity chat feature to chat to your temporary teammate.
This new Gulag sounds similar to Modern Warfare's Gunfight OSP mode where players start with fists and must pick up the weapons and equipment, so it appears Infinity Ward have taken inspiration from the fan-favorite mode.
There's also an AI Jailer, and after he's killed he will drop a key. The first team to pick up the key and carry it to one of the doors will win the escape, winning the Gulag.
The Shop - No More Loadouts
Loadout drops were a staple of the original Warzone battle royale, but Warzone 2 players will have to purchase their weapons from enhanced Buy Stations called The Shop instead.
While all eyes were on the new features set to improve the Warzone experience, players couldn't help but notice one drastic exclusion. It seems loadout drops will not be included in Warzone 2.
Instead, you'll have to access new and improved versions of Buy Stations called The Shop to secure your custome weapon builds. At these locations, you'll be able to "buy and upgrade equipment and weapons, including the custom weapons you created before dropping in."
Loadout drops have been an integral part of Warzone gameplay since the game's early days. Alongside weapons, the feature would also allow players to harness equipment and Perks after reaching a free loadout drop or purchasing their very own.
Players will only be able to purchase their custom weapons from The Shop in Warzone 2.
Given the removal of loadouts, you'll have to use The Shop to get you ready for battle. Alongside custom weapons, you'll also find gear such as Gas Masks, Killstreaks, and Armor.
Much like Buy Stations of the past, players will also be able to buy back their teammates after they've been taken out.
The devs made it clear that you will not be able to purchase Perks at The Store, which was another main component of a custom loadout in the original Warzone. There will no longer be any Perks in Warzone whatsoever, while you'll be able to purchase a limited amount of equipment at The Store, you're more likely to find Tactical and Lethals as ground loot.
Relying on a free loadout drop to change your weapons depending on your circumstances was a vital aspect of Warzone strategy. This is all set to change in Warzone 2, as you'll have less direct access to the weapons at your disposal.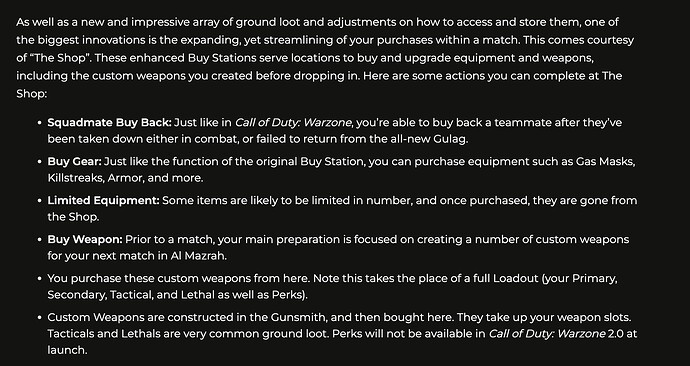 Strongholds
Strongholds in Warzone 2 are designed to integrate AI into the game. Strongholds will appear across the Al Mazrah map and players will have the choice to approach them or ignore them.
Those looking to take on extra combatants and earn additional rewards should be on the lookout for Strongholds. These areas will feature high density enemy AI that you'll have to combat.
Strongholds will not be easy to breach as you're likely to run into locked doors and enemy AI that are prepared for your arrival. The devs have mentioned that AI in Modern Warfare 2 and Warzone 2 is smarter and deadlier than ever.
AI located within Strongholds will react to counter your tactics and strategies to breach the location. Given the improvements made to AI, it's no surprise to see the devs emphasize their presence around Al Mazrah.
If you manage to take over a Stronghold, you'll receive valuable loot as a reward. This high-tier loot could set you up for success during the late stages of a Warzone 2 match.
One of the rewards for conquering a Stronghold is an item that "allows you to purchase one of your customized Gunsmith weapons at The Shop for free." While we don't currently know how much these customized weapons will cost, the opportunity to get them for free will make conquering Stronholds worthwhile in Warzone 2.
It'll be up to you and your teammates to judge the risk and reward of attempting to conquer a Stronghold. With this new strategic layer added to Warzone 2, Strongholds will surely play an important role.
Looting & inventory
Warzone 2 has also shaken up how players will loot their gear around the map, bearing more of a resemblance to Blackout or PUBG than the original Warzone.
Weapons, Equipment, and Self Revives will no longer pop out of Supply Boxes, instead, players have to access a menu where they can pick out their items.
Your loot will be divided between your loadout and your Backpack, which is used to carry items such as Armor Plates, ammo, and extra Equipment. You can also loot other players' Backpacks too, so you don't need to worry about sorting through a huge pile of loot.
AI
Warzone 2 players can also find AI scattered all over the map, dropping weapons and providing bonus XP. They don't have much health nor deal much damage, but content creators playing at Call of Duty Next complained that they made things too confusing.
Modern Warfare II
Third-person
Call of Duty fans will finally get to revisit a third-person experience as a new point of view feature will debut in the Modern Warfare 2 beta.
The Call of Duty Next event revealed plenty of details about Modern Warfare 2's multiplayer. While there's a lot to be excited about, like the new Gunsmith and Perk systems, it seems there's still a ton of new content to look forward to.
Prior to the Call of Duty Next event, a third-person feature was leaked by players who accessed files from the Modern Warfare 2 beta. This information was later confirmed at Call of Duty next as Modern Warfare 2 will deliver a third-person mode.
2009's Modern Warfare 2 is the one and only Call of Duty title with a fully functional and legitimate third-person mode. In an interesting turn of events, Infinity Ward decided to revive the third-person feature for 2022's Modern Warfare 2.
The Call of Duty franchise is known for its iconic first-person gameplay. For years it has innovated and pushed the envelope when it comes to the FPS genre. However, players familiar with 2009's Modern Warfare 2 may recall the Third Person Team Tactical mode that offered a rare change of pace for players.
2022's Modern Warfare 2 will offer a similar third-person feature for players to enjoy, and it will expand post-launch. The devs explained their longstanding desire to deliver the mode: "We've always wanted to do third-person."
Third-person functionality will work as a modifier that can be switched on and off. In the Modern Warfare 2 beta, a third-person point of view will be available in the Hardpoint mode.
The devs plan to expand third-person to other modes following the beta and they've hinted that this will include Warzone 2.
Fans of iconic third-person shooters such as Fortnite, Gears of War, and Mass Effect will be ecstatic to see the feature return to the Call of Duty franchise after a prolonged absence.
Minimap
Much like Vanguard before it, Modern Warfare 2's minimap will not reveal the location of enemy players who fire their weapons.
The minimap is a vital tool for Call of Duty players looking to dominate lobbies. Not only does it provide valuable information concerning the location of your teammates, but in the past, it also revealed enemy locations with red dots.
In order to appear on the minimap as a red dot, enemies would have to fire their weapons. In Call of Duty games of the past, this would reveal the enemy's location. However, it seems Modern Warfare 2 will not boast this minimap feature.
Players will have no choice but to get used to the new norm for the franchise, seeing as back-to-back Call of Duty games have removed red dots from the minimap. The decision to remove red dots from the minimap is a conscious choice of the development team in charge.
Infinity Ward kicked off the trend in Modern Warfare (2019), so it's no surprise to see them stick to the formula that they deemed a success. While Black Ops Cold War opted for the traditional minimap formula, things changed once again following the release of Vanguard.
Previously, Vanguard devs Sledgehammer Games admitted that they were influenced by Infinity Ward's decision in Modern Warfare: "seeing the success there in terms of just the gameplay as well, keeping players focused on what's in front of them."
While firing a weapon will not reveal your location on an enemy's minimap, Modern Warfare 2 players can equip the Bird's Eye Perk, which is similar to Vanguard's Radar.
This Perk made enemies appear on your minimap when they fired an unsilenced weapon, which slightly appeased players who were upset by the decision. Bird's Eye is in the fourth Perk slot also known as an ultimate Perk.
Dead Silence
Dead Silence will be included in Modern Warfare 2 at launch but will be featured in the game as a Field Upgrade rather than a Perk once again.
Call of Duty Next has arrived, giving us our first look at the highly anticipated Modern Warfare 2, Warzone 2, and Warzone Mobile. With the game's multiplayer beta starting on September 16, and plenty of announcements from this big presentation, there's plenty for CoD fans to sink their teeth into.
One of the best things about Call of Duty is the fact that you can play the game your way. Whether you like to rush at enemies with reckless abandon or pick them off from distance with a Sniper Rifle, you can choose your playstyle.
For those who like to sneak around and catch enemies unaware, Dead Silence has been a crutch tool in your arsenal, allowing you to walk around without making any footstep noises. Dead Silence returns in Modern Warfare 2, but as a Field Upgrade and not a Perk.
This means that players will not be able to use Dead Silence for the entirety of a match, but instead will only be able to activate it for a set amount of time.
In 2019's Modern Warfare, Dead Silence would completely remove all footstep noises for 15 seconds, with the timer restarted if you found a kill while it was active. It also offered an 8% movement speed boost, along you to move around the map at high speeds.
It sounds almost exactly the same in Modern Warfare 2, with the beta's description reading: "Temporarily makes your footsteps silent. Gun, melee, and throwing knife kills refresh duration."
DMZ Mode
There have been a ton of rumors and leaks surrounding Modern Warfare 2's Escape from Tarkov-esque DMZ mode, and Infinity Ward have now officially confirmed the mode will arrive as free-to-play content alongside Warzone 2's launch.
The battle royale genre blew up in 2017 and 2018, and Call of Duty launched Blackout and Warzone to capitalize on the trend. But thanks to games like Escape from Tarkov and Hunt Showdown, the extraction genre has garnered a dedicated fanbase.
Infinity Ward are set to deliver their own take on the genre with the DMZ mode, which was finally confirmed at the Call of Duty Next event alongside Modern Warfare 2's multiplayer and Warzone 2.
Infinity Ward announced that DMZ will be an "all-new sandbox experience that will arrive with Call of Duty: Warzone 2.0 at launch." Warzone 2 arrives on November 16, so players will only have to wait three weeks before getting stuck into the new battle royale and extraction-based mode
Plus, Infinity Ward confirmed that DMZ will be free-to-play alongside Warzone 2, so players don't need to own Modern Warfare 2 to play.
The DMZ mode will be Call of Duty's take on Escape from Tarkov, where players must battle other players in order to "loot up and exfil." Some of the leaked info claims that players must complete objectives such as searching areas for radioactivity and rescuing hostages.
The DMZ mode will be played across the whole of the brand-new Warzone 2.0 map Al Mazrah, and AI will occupy "large sections of the map," patrolling and setting up in Strongholds. The AI will be a force to reckon with, reacting and reinforcing based on player actions, but players will need to get rid of them if they wish to collect loot.
Infinity Ward also confirmed that players will be able to choose missions and objectives that they wish to complete when infiltrating Al Mazrah] in a DMZ match, or players can chase after a "variety of activities in the world."
Players have the option to play however they want, they can go in loud, quiet, hunt other players down, mind their business, or discover the "secrets of Al Mazrah."
DMZ is also set to feature the brand-new AI that Infinity Ward have developed, and players will also be taking them on the Spec Ops mode's Destiny-style Raids that are coming post-launch.
Raids
Modern Warfare 2 is set to be one of the most expansive and wide-ranging Call of Duty titles ever, with MW2 to introduce Destiny-style Raids following the game's release.
Call of Duty Next has been full of major announcements covering all three of the franchise's upcoming releases: Modern Warfare 2, Warzone 2, and Warzone Mobile.
It's not just Warzone 2.0 getting exciting new modes, with the now confirmed sandbox DMZ mode, as Infinity Ward have been hard at work creating new Call of Duty experiences for MW2 as well.
Alongside the return of Special Ops, the developers are planning to bring Raids to the game, taking inspiration from Bungie's Destiny franchise.
Infinity Ward state in the Call of Duty blog that Raids will be a "three-player cooperative engagement requiring teamwork and strategic."
Players will be working together to complete objectives against AI, similarly to the classic Spec Ops mode. As well as taking out AI and completing objectives like saving hostages, it seems players will also have to get their thinking hats on in order to do some "puzzle-solving thinking in-between bouts of intense combat."
Perhaps the new proximity chat will help players coordinate a strategy for these raids, as the new AI that Infinity Ward have been working on is set to be a force to be reckoned with.
The game's developers have confirmed that Raids will arrive "later this year," but have not announced an exact release date for the mode.
New Perk System
Perks have been an integral part of Call of Duty multiplayer since the franchise's inception, and that will continue to be the case in Modern Warfare 2. While the game's new weapons will certainly garner a ton of attention, the importance of Perks is not to be underestimated.
The Call of Duty Next event has revealed plenty of details concerning Modern Warfare 2's Perk system. Players will have to come to grips with a new Perk Packages system, which they'll encounter for the first time in the Modern Warfare 2 beta.
Here's a guide to help you understand Modern Warfare 2's Perk system.
What are Perk Packages in Modern Warfare 2?
The Modern Warfare 2 Perk system is being compared to MW3's and those familiar with the Call of Duty title of the past will notice similarities.
When creating a class, you'll be able to build a Perk Package that contains four Perks. Two of the four Perks are known as base Perks. Meanwhile, the third and fourth Perks are known as bonus and ultimate Perks respectively.
The timing of their activation will fluctuate from player to player as "kills, assists, objective and tactical plays can unlock these more quickly." The devs also mentioned that: "All are earned during a Multiplayer match, usually at the 4- and 8-minute mark in non-round-based modes."
In other words, the better you play in a given match, the faster your Perks will activate, increasing the tools at your disposal.
You'll have the choice to "edit your Perk Package in your Loadout or utilize the several premade Default Perk Packages."
Perks are still split up into numbered sections like most Call of Duty games. When creating a Perk Package, you'll have to select two Perks from slot one, one Perk from slot two, and one Perk from slot three.
Killstreaks
Call of Duty Next has finally arrived, providing fans with a mass amount of information on the future of Warzone and Modern Warfare 2. The event showcased a host of gameplay, giving fans their first look at the game prior to the multiplayer beta's release on September 16.
As well as revealing details on the Perk system, Gunsmith, and FOV, fans also got critical information on whether Modern Warfare 2 will follow the Killstreak or Scorestreak system.
Scorestreaks tend to be implemented more in Treyarch-developed Call of Duty games such as Black Ops Cold War, whereas Infinity Ward usually sticks with the classic Killstreak system, which players tend to always call for.
It seems Infinity Ward will be continuing this trend, as with the gameplay reveal during the Call of Duty Next event, it's clear that Modern Warfare 2 will feature Killstreaks, not Scorestreaks.
Killstreaks are tailored more towards a player's individual performance, being rewarded for killing multiple enemies without dying rather than completing objectives and getting score.
The Killstreaks system is the original way of rewarding players for their performance with extra tools in-game that will help them win the match and dominate. In Modern Warfare 2, UAVs, Counter UAVs, and even the Juggernaught will all be obtained through going on a killstreak.
The Killstreak will have the amount of kills without dying needed in order to unlock its use, so players know what they're aiming for. So pick carefully, as you won't want to miss out on usiong a big Killstreak because you forgot to put it on.
Players will have a chance to use some of Modern Warfare 2's Killstreaks with the beta, which is also set to provide some pretty awesome beta rewards.