After shopping around for a new headset for a bit I was advised to buy PC headphones as the sound is better and I'm using them mostly for listening to music. I was also told most people preferred wired headset to wireless ones.
Well…I bought a pair of wireless, bluetooth, noise canceling headphones. So far I have mixed feelings. I spend hours each on my laptop. I sit about 4 feet away from the laptop and use my TV as a screen. I figured bluetooth should be fine for this. It has been for the most part but now I'm starting to notice a lot of skipping. Battery is fully charged and, if it matters, not many computer resources are being used.
So…the headphones came with an auxiliary for when the battery is low. So the tiny 1 page excuse of a manual says. It was too short so I bought a decent 8 foot auxiliary cord. I was assuming by using the cord that I'm no longer using bluetooth, I dunno…Windows (10) had to troubleshoot for a minute to get everything straight. Now it sounds worse. Much worse.
I was expecting to have a bit more control of the headphones also. Like an equalizer on the laptop or something. But other than tinkering around in sound manager all I've been able to do is turn the volume up and down. The equalizer setup option in sound manager has bass boost, headphone virtualization, and loudness equalization. I've tinkered with those a bit but in the long run wound up with worse sound.
I'm not looking for some amazing sound or anything. Half the shit I listen to is live music on youtube, so it's not like super quality or anything. I dunno…I was expecting more. The reviews for it were decent and it wasn't really expensive but it wasn't super cheap either. Not to my broke ass!
Any suggestions would be greatly appreciated. Did I buy shitty headphones and should return them? Got 'em from Amazon, but nothing else in this price range seemed any better. Is there an equalizer app or something I should have?
Thanks in advance for any advice!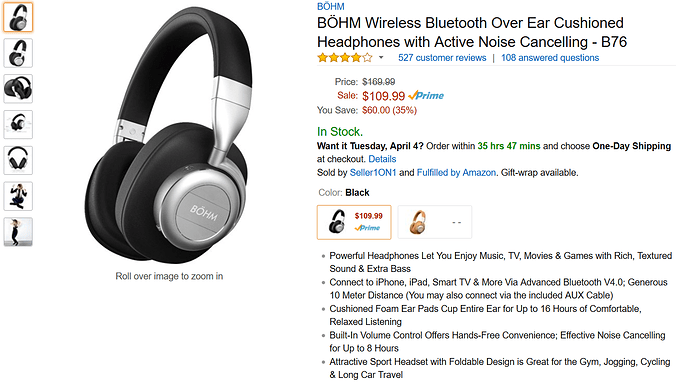 https://www.amazon.com/dp/B01F5S4BEC/ref=twister_B01KVXDPX4?_encoding=UTF8&psc=1