Update : Microsoft has confirmed that Rainbow Six Siege will join the Xbox Game Pass lineup later this week. The first-person multiplayer shooter will be available to play with Xbox Game Pass for console and Game Pass Cloud Streaming on October 22nd.
The folks behind the Xbox Game Pass Twitter account are up to something once again. A cryptic image was tweeted over the weekend, which has led to the many on the internet to believe that Tom Clancy's Rainbow Six Siege will be joining the Xbox Game Pass lineup soon.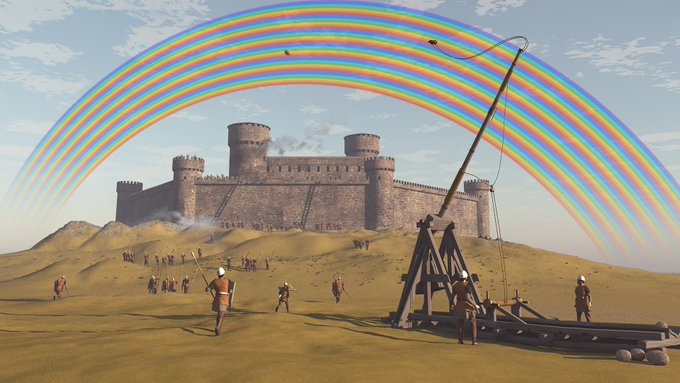 In the image, we see a lovely rainbow made up of six individual rainbows combined, arching over what looks to be a siege. There's a siege weapon in the reform of a trebuchet, with six projectiles, unloading onto a castle with six towers. Rainbows? Sixes? Sieges? It all makes sense. Well, that's the latest theory from the Twitter masses anyway. Others believe the image could be teasing Mount and Blade 2: Bannerlord as the big addition, but it seems somewhat unlikely as the strategy title is still only available in early access over on Steam.
Neither Microsoft nor Ubisoft has confirmed anything about the tweet.