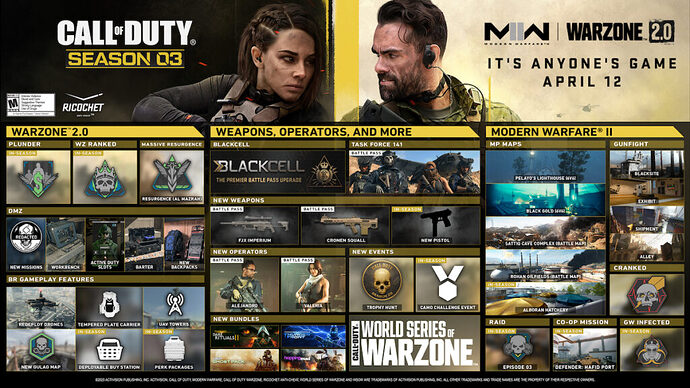 Warzone 2 Season 3 start date
The Warzone 2 Season 3 update will arrive Wednesday, April 12, 2023. The update will arrive around 10 AM PT / 1 PM ET / 6 PM BST, as confirmed by the Season 3 blog.
While the date was confirmed by the devs, it also matches the Season 2 Battle Pass timer, meaning you only have a few days left to grab all of the CoD Points and weapons on offer.
Intervention & Cronen Squall arrive in Warzone 2 Season 3
The FJX Imperium is modeled after the classic Intervention.
Players have been desperate for classic Call of Duty weapons to arrive, and one of the most popular ever arrives in Warzone 2 Season 3 — The Intervention from 2009's Modern Warfare 2.
Called the FJX Imperium this time around, the legendary bolt-action Sniper Rifle can be unlocked in the Season 3 Battle Pass and should be perfect for quickscoping in both Al Mazrah and Ashika Island.
The Cronen Squall is another new weapon that will arrive via the Season 3 Battle Pass. The Battle Rifle is a "semi-automatic rifle chambered in 6.8 Wrath and designed for distance shooting and exceptional damage output."
Meanwhile, players can expect two new Pistols to arrive with the Season 3 Reloaded update.
Alejandro & Valeria Operators in Warzone 2 Season 3
Alejandro and Valeria quickly became fan favorites when they first appeared in Modern Warfare 2's campaign and after a ton of requests, they'll finally be unlockable in Warzone 2 Season 3.
Luckily, both new Operators will arrive with the Battle Pass: "The admirable Alejandro and El Sin Nombre herself are ready to deploy in Modern Warfare II and Warzone 2.0 online modes with purchase of the Battle Pass."
Al Mazrah Resurgence confirmed for Warzone 2 Season 3
After the successful return of Resurgence with Ashika Island in Warzone 2 Season 2, the devs have officially confirmed that the mode will also be available for Al Mazrah in Season 3, revealing so in the trailer and roadmap.
Resurgence is an extremely popular game mode in Warzone 2, so it's no surprise to see it being adapted for the bigger Al Mazrah map.
In Warzone 2's new mode called Massive Resurgence, "the player count will be increased to fit Al Mazrah."
Warzone 2 Season 3 BlackCell Battle Pass
Activision have scrapped the "linear stream of tiers" for a new "multi-Sector map." Now, players will be looking at a map and using earned Battle Pass Token Tier Skips to unlock items across the map, which will be themed for whichever season the game is in.
"Battle Token Tier Skips are earned simply by playing the game, like Tiers in the old system." Battle Token Tier Skips that you do not use are automatically spent at the end of the season if you do not use them.
Modern Warfare 2 and Warzone 2 feature a completely new and unique Battle Pass system.
Each Sector contains a main unlock which is known as the High Value Target or HVT. As you can see from the image above, the HVT in Sector A1 is a weapon blueprint and there are four items beneath it that must be unlocked before proceeding to the HVT.
It's important to note that you must unlock the entire Sector before moving on to a new one.
The Battle Pass map will have "at least 20 Sectors with five items in each Sector," adding up to 100 items. This new system allows players to pick and choose which items they would like to focus on, but there's a catch.
Once the Sector is fully unlocked and you've earned the HVT item, "you are free to advance to any adjacent Sector." You cannot move across the map at will seeing as you'll have to stick to a neighboring Sector.
In the example of A1 shown above, players can move to either A2 or A3.
Players will have control over how they wish to spend their Battle Pass Token Tier Skips, deciding whether they'd like to embark on the quickest path toward a new Operator skin, one of the new weapons, or let the game automatically choose an effective route.
"100 Battle Token Tier Skips are required to complete the Battle Pass," and there'll be a special reward for those who do so each season.
In Season 3, the devs are introducing an "Automatic Pathing feature" that charts an effective Battle Pass path for you, so that you don't need to keep going back to the Battle Pass screen and can instead focus on racking up in-game hours rather than figuring out what you want to unlock next. Players can switch this feature on and off at any time throughout the season.
Modern Warfare 2 & Warzone 2 BlackCell Battle Pass offering
In Modern Warfare 2 and Warzone 2 Season 3, you can purchase the new BlackCell Battle Pass offering to speed up your progress, which is essentially the new Battle Pass bundle.
This will cost players $29.99, and it will include "over 7,000 COD Points of value," including all that was in the original Battle Pass Bundle and more:
Access to the full Battle Pass and 20 Tier Skips (25 on PlayStation®).
1,100 COD Points instantly awarded.
Up to 1,400 COD Points awarded throughout the Battle Pass.
A BlackCell Operator, attired in an imposing animated Camo skin.
A Pro-Tuned Weapon Blueprint, Vehicle Skin, and Finishing Move.
An exclusive BlackCell Sector within the Battle Pass AO serves as an alternative starting location.
Immediate unlocking of adjacent Battle Pass Sectors to the BlackCell Sector.
Additional, BlackCell-only Battle Pass content: Every Season Battle Pass Sector with an Operator Skin has a BlackCell variant (12 Skins in total) to unlock.
New Gulag map in Warzone 2 Season 3
The Blacksite Gulag is also arriving as a Gunfight map in MW2 Season 3.
Warzone 2 Season 3 will introduce players to a brand-new Gulag. This new Blacksite Gulag map will correspond to Al Mazrah matches.
Not to be confused with Warzone 2's Black Sites, Blacksite will allow players to duke it out as the new Season 3 Gulag.
"A training ground for Operators wanting to return to the warzone, this roughly rectangular, asymmetrical map has several interior spaces and long external routes."
Warzone 2 Season 3 one-shot Snipers Rifles
The devs have confirmed that one-shot Sniper Rifles will be returning as part of the Warzone 2 Season 3 update. Following the success of the St. Patrick's Day event, Snipers will finally be able to down a fully-plated enemy, but there is a slight catch.
In the early Season 3 blog, the devs said: "Expect the return of one-shot sniper rifles — under certain attachment and platform conditions — as part of this seasonal update."
They didn't specify what these conditions will be, but it's expected that players will need to equip an Explosive or Incendiary ammo type.
Warzone 2 Season 3 new gameplay features
Redeploy Drones
Redeploy Drones are coming to Warzone 2 in Season 3 as another way to get around Al Mazrah. They've already made an appearance on Ashika Island during Season 2, but the Season 3 update will see them arrive in Al Mazrah.
Redeploy Drones in Season 3 will get Warzone 2 players out of tight spots.
Tempered Plate Carrier
Those who experienced Warzone Caldera will be familiar with the Tempered Plate Carrier that is coming to Warzone 2 Season 3.
In Season 3, Operators equipped with a Tempered Plate Carrier will utilize two bars of armor instead of three. This will speed up the platting process for those looking to achieve maximum health.
UAV Towers
Warzone 2 players will soon be able to utilize fixed sources of recon with UAV towers in Season 3. If you're desperate for more intel during a match, you can head to a UAV Tower and activate it to receive UAV sweeps in that area.
In addition to the new arrivals mentioned above, the Season 3 Reloaded update will offer even more gameplay changes by introducing Decontamination Stations, preset Perk Packages in Supply Boxes, Deployable Buy Stations, and a valuable Gulag Entry Kit, which will allow players an additional shot at a Gulag match.
DMZ content in Warzone 2 Season 3
Barter System
The Barter System feature will make its way to DMZ with the Warzone 2 Season 3 update. This will be a new way to reward those who do their best to stay stocked up and full of items. The Barter System will allow you to trade your items for other ones at Buy Stations.
Workbench
The Workbench will allow DMZ players to modify Contraband weapons:
"For a nominal Cash fee, the Workbench allows an Operator to add attachments they have unlocked for the Contraband's weapon platform onto a piece of Contraband or remove them piece by piece."
Active Duty Operator Slots
In Season 3, every DMZ player will start with three Active Duty Operator slots. Each of these Operators will have their very own on-soldier items, including a Backpack, Plate Carrier, Killstreaks, Self-Revive, and Gas Mask.
"For every infiltration, you can choose which Active Duty Operator you bring in, meaning that you can calculate risk to whatever missions you want to tackle or the type of experience you want to have for that match."
New Faction
The Season 3 roadmap blog revealed that a new faction is coming to DMZ. You can expect new mission tiers at launch and more to arrive in-season.
New Remixed Missions & Contract
Warzone 2 DMZ players will get some more variety in Season 3 as the devs are delivering a new set of faction missions and a new contract called Secure Supplies.
This new DMZ contract "flags containers in the Exclusion Zone with essential gear for this experience."
New Bosses
DMZ players will get to take on new challenges and threats in Season 3 as the roadmap revealed that two bosses will be present across Exclusion Zones.
Warzone 2 Season 3 Trophy Hunt event
A new event is coming Warzone 2 Season 3 called Trophy Hunt. Here's how Trophy Hunt will work in Warzone 2:
"During this event, every player will drop a trophy — a small, decorative challenge coin — whenever they are eliminated in any mode. These trophies can also be earned by performing specific tasks, such as opening Supply Boxes.
These trophies can then be exchanged for items shown in the Events tab, including Weapon Blueprints, Vehicle Skins, and even Battle Pass Token Tier Skips. Those who redeem enough items will also unlock some exclusive Operator Skins for their efforts."
Warzone 2 devs confirm Ranked Play for Season 3 Reloaded
After teasing its arrival, the Warzone 2 devs have officially announced that Warzone Ranked Play will be arriving with the Season 3 Reloaded update, stating that it will "change everything."
Players were able to see this in the Warzone Season 3 trailer featuring Alejandro and Valeria, as "Warzone Ranked" briefly popped up on the screen.
While there's no official release date for Warzone 2's ranked mode, the devs confirmed: "Ranked Play Arrives at Mid-Season."
Plunder arrives in Warzone 2 Season 3 Reloaded
The Warzone 2 devs confirmed that Plunder will return to Warzone, as a Season 3 Reloaded addition.
Much like the Warzone Ranked announcement, the devs confirmed a Season 3 launch for Plunder. However, it is also arriving in the Warzone 2 Season 3 Reloaded update similar to Ranked.
Plunder is a Warzone playlist that gives players unlimited respawns as they attempt to finish the match with the largest amount of cash possible. It was a fan-favorite mode that many Warzone players used to level up weapons with ease.
Things will be slightly different this time around, as AI enemies will be scattered across the map and there will be a host of new in-game events and new items in Buy Stations.
DMZ players are also receiving new additions, such as the handy Skeleton Keys and the Barter system. That's not all, Warzone 2 Season 3 is bringing Heavy Chopper back to DMZ, providing Operators with a new way to escape.
Here's everything you need to know about how to exfil with the Heavy Chopper in Warzone 2 DMZ.
DMZ Heavy Chopper exfil explained
The Heavy Chopper will need to be refueled before use in Warzone 2 DMZ, as its tank will be completely empty at the start of a match. This can be done by tracking down its "special fuel around the airport" to get the vehicle back into the sky.
Once the Heavy Chopper has been successfully refueled, players can simply fly outside the boundaries of the map to begin the exfil countdown. This can be done for free, so there's no need to worry about collecting cash or other resources.
Here's a step-by-guide on how to exfil using the Heavy Chopper in Warzone 2 DMZ:
Find the Heavy Chopper on the DMZ map.
Head to the airport and collect fuel for the vehicle.
Head back to the helicopter.
Fill up its tank using the fuel you have collected.
Hop in the Heavy Chopper and fly past the outer boundary of the map.
Wait for the countdown to reach zero.
Players can fly their own Heavy Chopper in Warzone 2's DMZ mode.
While the Heavy Chopper is a quick and free way of extracting in DMZ, it's not the only function it can be used for. It's also a great way to quickly get around the map, so you and your squad can hit up a few locations before running for the exit.
This marks the first time that Heavy Choppers have featured in Warzone 2 after being removed in December due to players exploiting them at the end of battle royale matches. While they remain inactive in BR games, DMZ players can use their tough armor to their advantage.
The devs haven't revealed where the Heavy Chopper will spawn in DMZ during Warzone 2 Season 3, or if it will be in the same place every game, but don't be surprised if you have to fight off a number of squads to score the helicopter.
As well as all this exciting content, there are also new game modes for multiplayer. Players had been calling for Gunfight to return from MW2019, and luckily it seems like that is precisely what will be happening.
Many do not know that Gunfight is actually a rendition of an old Modern Warfare 3 mode called Face Off, which will also be arriving in Modern Warfare 2 Season 3, but in a different form to its original. Here are all of the details you need to know.
Face Off returns in Modern Warfare 2.
Modern warfare 2 Face Off mode explained
In Modern Warfare 2's Face Off, two teams of three will be pitted against each other on smaller maps to see who comes out on top in respawn modes such as Team Deathmatch and Domination. It's unclear what maps will be available at the moment, but we'll be sure to add more details as information is released.
Face Off will be arriving in the Modern Warfare 2 Season 3 Reloaded update, a mode that features a balance between Gunfight and the standard 6v6 multiplayer format.
The mode will no doubt require tactical prowess and teamwork due to the smaller team and map sizes. If the mode plays anything like it did in MW2019 and Black Ops Cold War, it can certainly be hectic and intense.