---
Covering all things Xbox for the month. \o/
---
August 3, 2017
Ubisoft announces a free trial of Tom Clancy's Ghost Recon Wildland. A military shooter in a open world environment that can be played solo or up to four player co-op. The trial period is 5 hrs; so all you have to do is download from your platform store. Once you reach 5hrs in-game the access is terminated. However, again with this trial, any progress you make will carry over if you decide to purchase the full game.


.
.
.
.
August 7, 2017
The Latest Xbox System Update gets pushed to the Xbox Insiders for the first look. The idea behind this update is to allow gamers to have more control in personalizing their Home Dashboard. This update will have changes effectings Home, Guide, and Community…as well to Avatars.
Later this fall we can expect to see updates to Game Hubs, Profiles and a few extras that are being kept under wraps at this time. Interested in learning more about this update…Check the article by Make Ybarra, Corporate Vice President of Xbox Platform Engineering.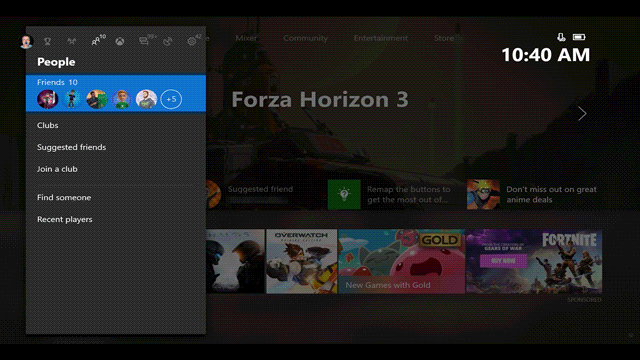 .
.
.
.
August 8 - 28, 2017
Blizzard's Overwatch announces the return of Summer Games. This year brings with it a new Lucioball Arena, leaderborads, and competitive play. Love getting seasonal items…no worries, Blizzard has you covered with over 50 new summer game items for you to collect.

.
.
.
.
August 8, 2017
Spotify Comes to Xbox One.
Long awaited and asked for by many, its finally here. You can now find Spotify in the Xbox Store under the applications. Just download, create or log in, and creating your playlist. With Spotify you will now be able to stream music stations or your created playlist in the background as you are playing your favorite games.
Wanna make changes to Spotify while playing your game but dont want to interrupt your gameplay, not a problem fellow Reapers. Just install Spotify on your tablet or cell phone as well and you can control you playback on your xbox one wirelessly from the app using Spotify Connect.
Check out more info here.

.
.
.
.
August 8, 2017
RockStar make 2 new announcements for Grand Theft Auto 5.
New Vehicle:

The HVY NIGHTSHARK , an another weapon of destruction to its latest DLC GunRunning.

New Adversary Mode:

Overtime Shootout

A new mode that is all about accuracy and finesses and all eyes on you. Instead of barreling down a ramp alongside your team mates, each player gets their own time to shine - or combust - as they alternate turns in true shootout fashion. Buckle up and aim high as the team with the most points collected by the end wins.

25% OFF MOBILE OPERATIONS CENTERS, WEAPONIZED VEHICLE CUSTOMIZATIONS, MK II AMMO TYPES & MORE
.
.
.
.
August 10 -13, 2017
Free Game Access - Thats right, if you are a Xbox Gold member, you are getting acces to "For Honor" this weekend for free. Now all you have to decide is if you are a Noble Knight, Brutal Viking, or the Skillful Samurai.
For Honor offers 5 different gaming modes; Dominion, Brawl, Duel, Skirmish, and Elimination. Game modes offer 1v1 upto 4v4 with different objectives in each gaming mode.
If you decide to purchase the game, no worries, Any progress made during this trial well carry over to the full game which will be on sale from August 10th through August 20th.
Interested in more…Check out the Article here.
.
.
.
.
Other News
Games with Gold - August 2017
Tournaments

Challenges & Contests

World of Tanks

Beast of Prey: Earn Ops (12 - 13, 20 -21)

Dive in to this month-long earned Op for your chance to earn points to spend on a hunter's bounty of prizes. See in-game for details.

This Week On Xbox Upcoming Episodes Dates

August 11, 2017
August 18, 2017
August 25, 2017
.
.
.
XBox Insider Program
Ever been curious about the Xbox Preview or wonder where it went. Well as all things, microsoft continues to develop and evolve their organization of developers and gamers. As Preview developed, it is now known as the Xbox Insider Program.
What is the Insider Program?

The program allows Xbox Fans the opportunity to test, preview, and give feedback to microsoft on not only system updates, but also games, apps, and other new experiences before the general mass of gamers get it.
If you are interested in this, well Xbox is not allowing gamers to Opt-In. There are various degress and the insider levels. To learn more check out the these two pages.
RUMORS
August Game Release Schedule
Grim Reaper Gamers PodCast
Alright fellow Reapers, while this may not be EVERYTHING happening this month. I just wanted to give yall some eye-candy and stuff to read.
Welcome all new Reapers that have joined this month.
@GoatHammer
@MmmWargasm
@LudwigVonTokkenTakke
Welcome to the Reapers that joined in July.
@ALFAmw
Capnsadiq
@Nanookbjorn
@juicemane302
@SwanFlew
@Icritmepants
@Zane
@AzraelDirge
Welcome to the family. If you dont own a XB1, its ok, we still love ya. One day maybe you will see the way of awesomeness.
If anyone ever has any questions dont hesitate to reach out to our Staff.
Till Next time. GhstWlkrs out \o/